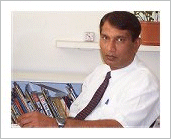 It is easy - - - Please click here to contact me.

To say modestly, I have more than 20 years of experience in Hindu Vedic astrology. This web site itself which I made entirely by myself is now more than 10 years in the web.

Life is a journey. Horoscope is the map. So why do not you read the map ?. It is always better to know what lies ahead and what will happen to, your health, wealth and relationships in the coming years. If you are not a believer, then give it a try just for the fun of it at least. Then you can judge for yourself. I assure you that, with my help, you can discover your Destiny.


Preview
Your Astrological Book of life
English Horoscope Reading
Sinhalese Horoscope Reading